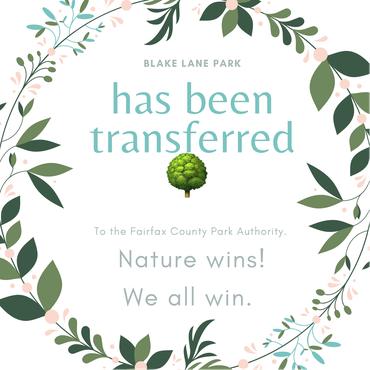 Friends of Save Blake Lane Park are overjoyed that the Fairfax County Board of Supervisors unanimously passed a resolution on April 13 to transfer the land to the Park Authority, preserving the rare green space from development for future generations. It was truly a successful 2 ½ year grassroots campaign that proved the community values its park
Save Blake Lane Park thanks the many community leaders, environmental groups and local residents for their tireless and passionate efforts to resolve the issue of development on the land. Countless hours of communications and meetings with officials, candidates and at events were spent to save the park. Over 1,000 residents signed a petition to save the park from being used for any other purpose than a park.
We are grateful for School Board Member Karl Frisch, Providence District, for finding an alternative space for an elementary school by repurposing an existing building in the Dunn Loring area, where overcrowding is an issue.
We thank Providence District Supervisor Dalia Palchik for her leadership in initiating the actions to officially convey the land.
Moreover, we appreciate the users of the park – kite flyers, bird watchers, picnickers, dog walkers, soccer and lacrosse players, yoga enthusiasts – for enjoying their precious green space for recreation and relaxation. And, we are extremely grateful for the many volunteers who help manage the invasive species, plant and nurture native trees and plants, and pick up trash to keep the park a beautiful place to visit. Our community is much healthier with a natural area in this shared backyard.
Next steps include working with the Park Authority to "enhance" the park through their master plan process. We have already heard from community members who want to keep the park a natural green space.
Blake Lane Park is a key model with the motto – "Once a Park, Always a Park" – for all parks throughout Fairfax County.
Please write an email to the individual Board of Supervisors to thank them for their support!
---
Now that an alternative school site has been identified (see School Board story below), the next step in preserving Blake Lane Park is the Fairfax County Board of Supervisor's action to transfer Blake Lane Park land to the Park Authority.
Supporters of Blake Lane Park are encouraged to testify!!
The Fairfax County Board of Supervisors will hold a Public Hearing at 3 p.m. on Tuesday, April 13, 2021 about the proposed transfer of Blake Lane Park from the Fairfax County School Board to the Fairfax County Park Authority. Thank you to Providence District Supervisor Dalia Palchik for quickly beginning the process.
The public is invited to testify (3 minutes) on April 13 via telephone call, video or in-person and in writing.
The Park Authority's master plan for Blake Lane Park was last updated in 1999 and may be found at this link. Community input to the Park Authority for a new plan will be sought once the land transfer is approved.
Here is the link where you can sign up:
Sign Up to Speak Before the Board of Supervisors | Clerk to the Board (fairfaxcounty.gov)
 Thank you for your continued support and please stay safe!
---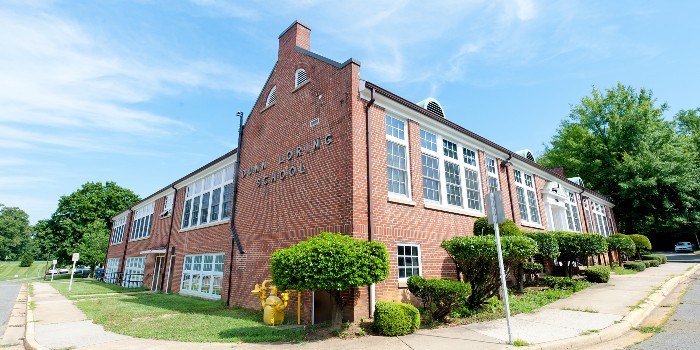 Plan Will Provide Capacity Relief for Shrevewood Elementary School and the Broader Dunn Loring, Tysons, and Falls Church Communities
On January 5, 2021 the Fairfax County School Board approved a proposal from Providence District Representative Karl Frisch to repurpose Dunn Loring Administration Center as a new elementary school, complete with a $36.8 million renovation. Paid for with existing bond funds, the endeavor will provide capacity relief for Shrevewood Elementary School and the broader surrounding community.
"This project will bring much-needed, sustainable capacity relief to the Falls Church, Dunn Loring, and Tysons communities where overcrowding has been a persistent challenge," said Frisch. "I am grateful to the many parents and school staff who have shared their capacity concerns with me over the past year. If not for their persistent advocacy and willingness to think outside of the box, this would not have been possible."
Approved by voters in 2017 and 2019, bond funds were initially earmarked for a new elementary school in the Fairfax/Oakton area. While no specific location was assigned for the school, early discussions centered on Blake Lane Park as a possible site. Two elementary schools in the area no longer have the dire capacity needs once projected and the park property is not available to the school system.
Dunn Loring Administration Center functioned as an elementary school from 1939 to 1978. In the years since, it has housed school division staff for program registration and various student assessments. It is located in the Tysons periphery, not far from Shrevewood Elementary School, which is projected to reach 120 percent capacity by 2025.
The typical construction timeline for new elementary schools includes one year for planning, one year for permitting, and three years for construction. The boundary adjustment process to fill new schools begins as construction nears completion. Planning for this project will begin as facilities staff complete their work around return to school.
Please thank Karl Frisch - kvfrisch@fcps.edu - for his leadership in seeking creative solutions to school overcrowding. Now we need action by the Fairfax County Board of Supervisors to transfer Blake Lane Park to the Park Authority to preserve it for future generations to enjoy. Please contact Providence Supervisor Dalia Palchik to voice your support for the transfer. Her email is providence@fairfaxcounty.gov.
---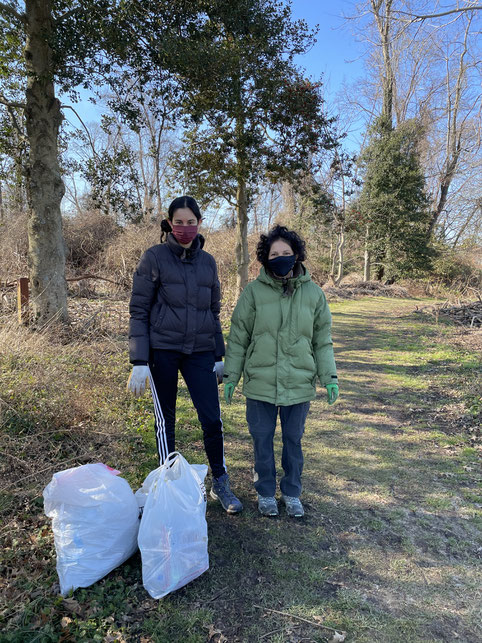 ---
 Frisch Says Blake Lane Park is "Off the Table"
for School Building
Alternative site now includes Dunn Loring Admin Center
At a Dec. 16 virtual meeting Providence District School Board Member Karl Frisch said the County Board of Supervisors has taken Blake Lane Park "off the table" for consideration of building an elementary school there and he is proposing a school in Dunn Loring instead.
At one time the focus was on the Park but over time the County Board of Supervisors, which owns the Park, shifted to seeking alternative sites, he explained.
This shift is due to several factors:
Strong community pushback to building on the Park – one of the only green spaces left in Oakton.
The County's current data in the Capital Improvement Program shows that the two elementary schools nearest the Park, Oakton ES and Mosby Woods ES, are projected to be under capacity in five years. On the other hand, Shrevewood Elementary School is overcrowded now and projected to be increasingly so in the next five years. Taxpayer money is better spent in an area that needs it more than in Oakton.
Traffic and safety issues continue to be a top concern especially after a recent near-fatal accident involving a 12-year old at Blake Lane and Hibbard Street.
The School Board has turned its attention to repurposing/renovating the Dunn Loring Administration Center, once a school, to relieve overcrowding at Shrevewood Elementary School, and will be addressing such action at its Jan. 5, 2021 meeting. The $35.4 million bond money that was approved in Nov. 2019 will be used to build out the school. Karl reiterated that the money can only be used for construction, not purchase of land.
Here are the links to the video and slides from Karl Frisch's meeting:
Video: https://youtu.be/KpdVEtp7epI
Slides: http://bit.ly/3msBCWa
While this is very encouraging news, now is the time to make sure the Park is permanently preserved and ask the Board of Supervisors to transfer ownership to the Park Authority. This would ensure no future use of the land other than a park for all to enjoy.
You are strongly encouraged to send a thank you note to:
Karl Frisch – Karl.Frisch@fcps.edu
And, a thank you to Fairfax County Providence Supervisor Dalia Palchik, along with a request to initiate the official process of land transfer to the Park Authority – Providence@fairfaxcounty.gov
Thank you for all you have done to get us to this point! Press on!
Best Wishes for a Happy Holiday Season and 2021
---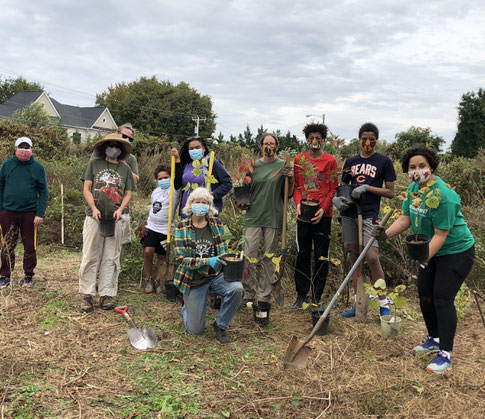 Volunteers Plant Native Trees and Plants in Blake Lane Park
Volunteers donning masks and gardening gloves took advantage of the beautiful weather on Saturday, Oct. 10 and planted 40 native trees and 55 native plants in Blake Lane Park, Oakton, VA. Fairfax County Providence District Supervisor Dalia Palchik joined in to help plant trees.
In addition to the successful pollinator garden that was planted two years ago by the Girl Scouts, the new trees and plants will enhance the health of the habitat for birds, mammals and insects as well as the park's beauty. The trees will help replenish lost canopy in the County, so vital to air quality.
Native Trees Planted
Tulip poplar
White oak
Eastern redbud
Dogwood
Black cherry
Red maple
Native Plants Planted
Mountain mint
Early goldenrod
Old field goldenrod
Upland boneset
Philadelphia fleabane
Blake Lane Park is an official Fairfax County Park Authority Invasive Management Area (IMA) https://www.fairfaxcounty.gov/parks/invasive-management-area. Volunteers have been busy spring and summer removing invasive plants, such as mile a minute, ivy, stilt grass and porcelain berry.
Many thanks to the volunteers, Laura Beaty of the Virginia Native Plant Society and a Fairfax County Tree Commissioner for her participation and guidance, and to Jennifer Pradas, the Park's IMA Leader, for coordinating the event.
---
Powr.io content is not displayed due to your current cookie settings. Click on the
cookie policy
(functional and marketing) to agree to the Powr.io cookie policy and view the content. You can find out more about this in the Powr.io
privacy policy
.
---
---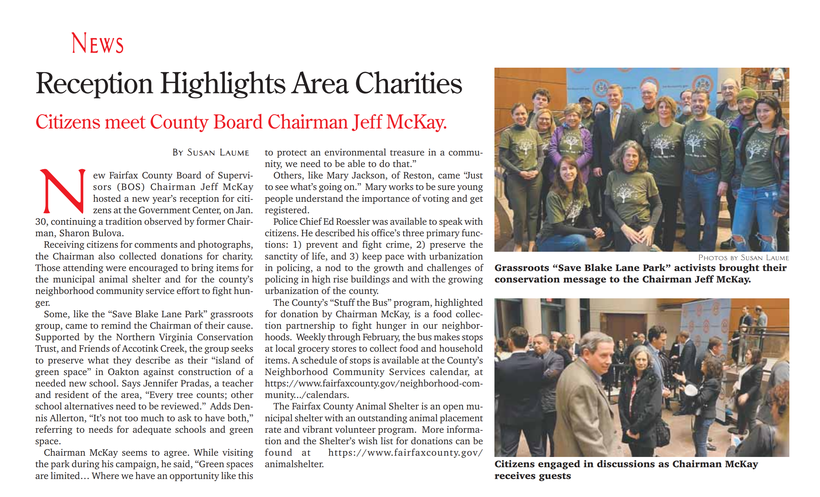 ---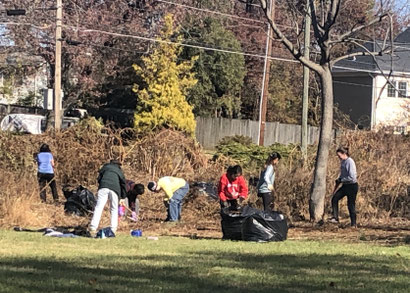 Many thanks to the hardworking volunteers who helped remove invasive plants and plant native species at Blake Lane Park in Oakton this past Saturday.
For more information on Fairfax County Park Authority's Invasive Management Area (IMA) program, which includes Blake Lane Park, and to serve as a volunteer, visit
https://www.fairfaxcounty.gov/parks/resource-management/ima/ima-calendar.htm
---
Watch the bond referendum from June 25, and hear what the Fairfax County Board of Supervisors thoughts are on Blake Lane Park. Hear for yourself how far we have made it in the efforts of saving our park.

Blake Lane Park dialogue starts at 2:04:38 (Action Item 4)
http://video.fairfaxcounty.gov/player/clip/1430?view_id=7
---
Learn from Linda Smyth the full details of Blake Lane Park's history and current situation
---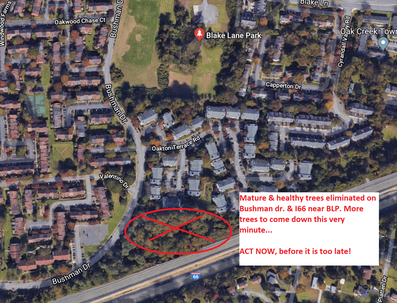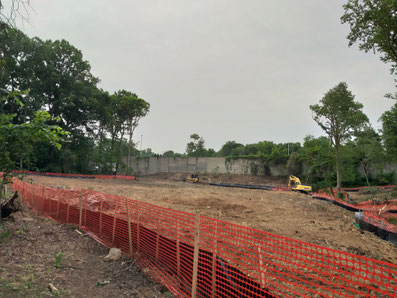 ---
Emails from a neighbor adjacent to Blake Lane Park written in 2006 to the School Board Member representing the Providence District reveal that there was never an indicated intention of keeping Blake Lane Park in FCPS's back pocket. Labeling BLP a school site is not supported by the email exchange from a couple of months before Blake Lane Park was actually transferred to the Board of Supervisors. An alert resident wrote to the elected School Board Member, at the time, asking for advice on what he needed to do to "guarantee preservation" of Blake Lane Park? After a few emails back and forth, it was clear that once Blake Lane Park was transferred, "their intent is to keep it a park".
---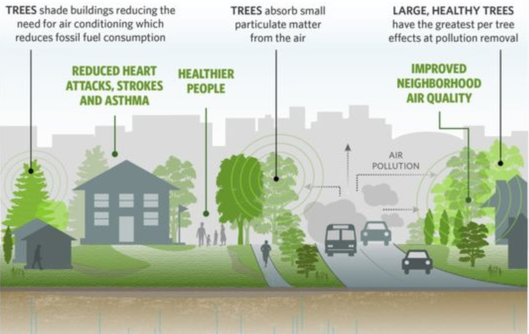 Trees Reduce Pollution
Growth of city trees can cut air pollution, says report;
---